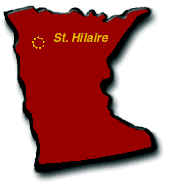 Ron has been in the auction business since 1985 and specializes in farm equipment auctions. The last 28 years he's has operated his auction lot on the north edge of St. Hilaire where there is a selection of equipment for sale year around and where his consignment auctions are held. Ron's years in the auction & farm equipment business combined with over 30 years of farming have given him a unique perspective on the marketing of farm equipment in northwestern Minnesota.

If you need to hold an auction on your farm, need a spot on the next consignment auction, need an appraisal of your equipment, or are looking for a specific piece of farm equipment give Ron a call at 218-686-2048, 218-964-5548 (office), email him at ron@redriverron.com. 
12250 CENTER ST. E., THIEF RIVER FALLS, MN 56701
CORNER OF CENTER STREET & US HWY 32
We hold 5 machinery consignment sales year round!!
Check us out on facebook